Once again, this has been a great reading year for The Fantasy Inn. We each decided to list our favourite 5 books we read in 2018. There may be some overlap from buddy reads and throwing our favourite books at each other (mostly in the metaphorical sense). It was painful to narrow down our lists to 5 books each, and we hope you pick up some of these lovely books!
We're all excited to see what 2019 brings, with more fantastic stories to read, more friendships to form, and more spreading the love of books to anyone who will listen.
---

Sharade's List
Five books to pick?? FIVE? YOU ABSOLUTE MONSTERS I CAN'T JUST CHOOSE FIVE I HAVE READ TOO MANY GOOD BOOKS THIS Y…oh, we're in public. Sorry about that.
Here goes, in no particular order:
1) An Unkindness of Ghosts by Rivers Solomon — It was one of the first books I've read in 2018. Back then, I already knew it was going to feature in this list. This book was a slap, a punch, a steamroll over my feelings. Raw and beautiful. A gem of a story that more people need to read.
2) City of Lies by Sam Hawke — I…er, talked about it before. Once or twice. Maybe more? Ok, I talked about it a lot. And that's because it's a splendid story of friendship, sacrifice, mysterious invading armies and poison. It's the kind of epic fantasy I love; focused on flawed and relatable characters and with layers and layers of meaning and themes. And did I mention the poison? Definitely my favourite debut of 2018.
3) Arm of the Sphinx by Josiah Bancroft — I don't know many other books where the writing and the story told simultaneously compete to get my attention, to my utter delight. With Bancroft, I get to follow interesting characters doing interesting things in a…more than interesting setting but also with an elaborate prose, never heavy, never overshadowing the action but always surprising me with its wit and charm.
4) A Closed and Common Orbit by Becky Chambers — It is a truth universally acknowledged that a year where I read Becky Chambers is also a year where Becky Chambers is featured among my favourites. I long hesitated between book 2 and book 3 of the Wayfarers series, before deciding that I prefer A Closed and Common Orbit. This story filled me with hope. It's gentle and forgiving in a harsh and unforgiving setting. No joking; I'm currently tearing up just thinking about it. The Wayfarers is probably one of the most important series currently written in SFF.
grumblegrumble still can't believe we're allowed only five…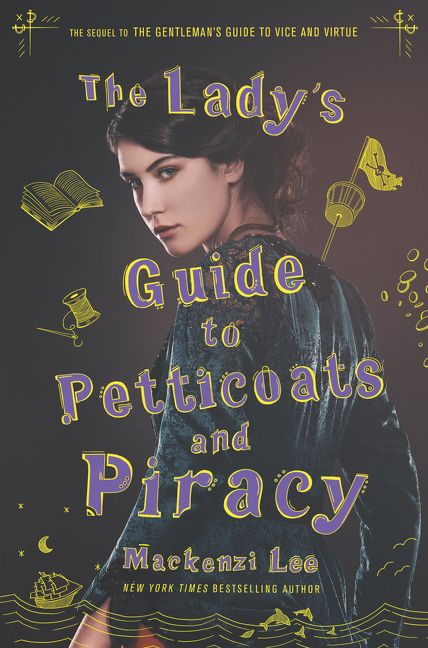 5) The Lady's Guide to Pirates and Petticoats by Mackenzi Lee — Oh how fun this book was! A delightful adventure story, sequel to the no-less amazing Gentleman's Guide to Vice and Virtue (and I see Jenia put both in her list as one entry. CHEATER. I cry foul!) Women being supportive of each other! A diverse cast! A crazy quest! A prickly and loveable heroine! The Lady's guide has humour and it has heart, which easily makes it one of my favourites of the year. Plus, it's one of the books we buddy-read this year and it made it even more special!
---

Tam's List
Without a doubt, picking only 5 books was the hardest thing I've done in a while. I've read over 90 books this year and narrowing it down to my top 5 was difficult. So, I've done what any crafty person would do in this situation, I cheated and added some honourable mentions too. Without further ado, and in no particular order, my favourite reads of 2018:
1) City of Lies by Sam Hawke – Political fantasy, a closed room murder mystery taking place over an entire city. The world is amazingly built, immersive, interesting, and unique, and Hawke uses it to write a fantastic tale with one of my favourite ever casts of characters. They're unique and feel amazingly real.
2) The Ninth Rain by Jen Williams – This is by far the best blend of fantasy and sci-fi I've ever read. Set on a fantasy world with alien invaders, The Ninth Rain, and its sequel, The Bitter Twins, feature a diverse range of characters, aliens, magical warbeasts, fantastic worldbuilding, all tied up in one incredibly immersive plot.
3) We Ride the Storm by Devin Madson – This book told an amazing, political story. Nations trying to avoid war, infighting in royal families, some really awesome beheading horse tribes. We Ride the Storm was an amazing read and I'm eagerly awaiting the sequel.
4) Jade City by Fonda Lee – Set in a Hong Kong inspired fantasy world, where Jade gives magic to the wearer, two gangster clans have some disagreements over land, and things go downhill from there. Lee has some badass characters, immersive worldbuilding, and awesome fight scenes.
5) Sir Thomas the Hesitant and the Table of the Less Valued Knights by Liam Perrin – This book is a pure delight, a comedic twist on your normal Tale of King Arthur that had me smiling the whole way through.
Along with my top 5, I'm going to add some honourable mentions to sequels that were absolutely amazing and I haven't added to this list because the first book was on last years list: Arm of the Sphinx by Josiah Bancroft, the sequel to Senlin Ascends, both of them are amongst my all-time favourite books; The Ikessar Falcon by K.S. Villoso, second book in The Annals of the Bitch Queen series; A Closed and Common Orbit by Becky Chambers, second book in the Wayfarers series; and of course, the large assortment of Terry Pratchett's Discworld novels I read this year (mostly the Watch books, but there were lots of good ones in there).
---

Kopratic's List
In no particular order:
1) The Fairies of Sadieville by Alex Bledsoe — The end of the Tufa novels, a series wherein each individual book can stand alone. This book (and the rest) is perfect for those looking for something dipped a bit in atmosphere and a bit in folklore. There's a subtle magic to it.
2) Empire of Sand by Tasha Suri — I think my favorite part about this book is how the writing just draws you in. The plot slowly unfolds, and before you know it, you're in the deep end.
3) By Raven's Call by J.A. Devenport — This is a self-pub book I found one night while browsing Amazon's recent releases. The cover caught my eye, and the blurb kept my attention. It was also a semifinalist in the 2018 SPFBO competition! In terms of comparisons, this book is great for those looking to scratch that Mistborn itch…and for those who love airships.
4) 84K by Claire North — A fair warning: This book is bleak. I read this very early in the year, and it has stuck with me. It was my first Claire North book, and wow what a powerful one!
5) An Unkindness of Ghosts by Rivers Solomon — I had wanted to try and have no repeats, but I couldn't leave this one off. It's another one that has just stuck with me throughout the months.
I read a lot of great books this year, so this was honestly a tough list to narrow down. Calling these my definitive Top 5 is a bit of a misnomer, though. I could probably tell you 5 more books I read this year that I loved just as much.
---

Jenia's List
1) The Mere Wife by Maria Dahvana Headley — The book's tag is "Beowulf in the suburbs" and if that doesn't make you wanna read it I don't even know. It's lovely, poetic, and poignant. The audiobook is fantastic. If you're a fan of Madeline Miller's Circe, this should definitely be the follow-up.
2) Guns of the Dawn by Adrian Tchaikovsky — I'm a simple girl. I like Fantasy of Manners and swoon-worthy romances; I also like chaotic, badass action scenes and pointed critique of war propaganda. And "oh shit, the war got so bad we need to start conscripting women" is just a very fun premise. Guns of the Dawn — it checked all my boxes ifyaknowwhatImean.
3) The Traitor Baru Cormorant by Seth J Dickinson — Oof, I've gushed so much about this book, I'm at a loss for words here! Read it and weep (possibly literally). Can't wait for book 3!!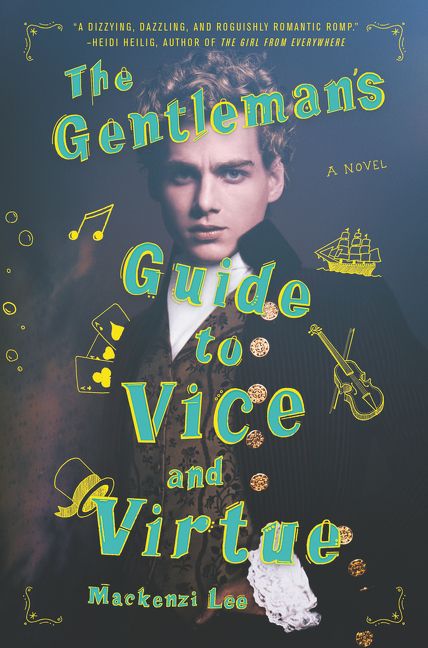 4) The Gentleman's Guide to Vice & Virtue/The Lady's Guide to Pirates and Petticoats by Mackenzi Lee — Including both because to be honest I can't figure out which of the two I like more! They're two sides of the same coin: very fun, very sweet, and with a fantastic audiobook. Again — book 3 when?!
5) The Unwomanly Face of War by Svetlana Alexievich — Yeah, this isn't a fantasy book — in fact, it's non-fiction. But I couldn't decide between a bunch of other fantasy books I loved equally and also this was the best book I read in 2018. It's a collection of interviews with Soviet women who were active on the Eastern Front in WW2 (snipers, nurses, partisans, communication officers, etc). I recommend it to anyone interested in "female warriors"; I cried a lot reading it.
---

Hiu's List
So I read SO MANY great books this year and it's impossible to cut that down to five, so I'm gonna cheat and only pick from books that were actually published this year.
Ready? Here we go…
1) We Ride the Storm by Devin Madson — There's a lot of great self-published fantasy books out there, and we try our best at the Inn to shed a light on some of those. We Ride the Storm shows why paying attention to those indie review requests can really be worth it. I gushed about it way back when I initially reviewed it, and I am beyond excited for the sequel.
2) Record of a Spaceborn Few by Becky Chambers — Becky Chambers' books are like a literary hug. She has this remarkable ability to make you smile even when the subject matter is tragic. Spaceborn Few was another fantastic book in the Wayfarers series, and I just wish there were more books like this.
3) Priest of Bones by Peter McLean — This one blindsided me a little bit. A co-blogger sent me a link for it and I picked it up based on some of the authors who blurbed it. What I found was a book with a very strong voice, and with a very visual world and larger-than-life main character. It's very Peaky Blinders, but that's far from a bad thing.
4) King of Assassins by R.J. Barker — This was the final book of the Wounded Kingdom trilogy, and in my opinion it's the best of the lot. I love the way this series explores how people and relationships can change over time, for better or worse. It has one of the best mentor-mentee relationships I've ever read in fantasy.
5) Paternus: Wrath of Gods by Dyrk Ashton — This was a riot of a book. So much action, so many cool scenes, and just so damned fun to read. I don't think I've ever seen an author improve so much between books as Ashton did here, but he has me salivating at the thought of this trilogy's conclusion.
Special mentions to Phil Tucker's Death March, Daniel E. Olesen's Prince of Cats, and N.K. Jemisin's How Long 'Til Black Future Month, which were all absolutely incredible.
If I can talk a little about some books I read that technically weren't published this year Josiah Bancroft's Arm of the Sphinx and Gareth Hanrahan's upcoming Gutter Prayer are both crazy, wonderful pieces of fantasy art. If it weren't for my self-imposed rule, both would be on the above list… but don't make me choose who would be sacrificed.
---

Wol's List
Oh, man. I have read a hell of a lot of good books this year, so I am going to cheat by choosing only books that my co-bloggers haven't already picked.
1) The Tower of Living and Dying by Anna Smith Spark — For me, The Court of Broken Knives was one of the best surprise reads of the year, but book 2 managed to surpass it in ways I never anticipated. Spark's incredible prose and complex characters kept me riveted throughout, and the next installment is one of my most anticipated upcoming novels.
2) The Annals of the Bitch Queen by K.S. Villoso — I read both The Wolf of Oren-yaro and The Ikessar Falcon this year, and found it to be one of the most engrossing and contemplative works I have read in epic fantasy. Villoso is emerging as one of the most exciting new voices in self-published fantasy, and I think it's safe to say we can expect to see great things from her in coming years.
3) A Time of Dread by John Gwynne — Of all the books I have read this year, this one caught me off guard with just how much I loved it. I hadn't read the previous series, nor did I find I needed to in order to be drawn into this fascinating world. Also one of the best examples of a good parent-child relationship I have read. I recently got my hands on a copy of A Time of Blood and I couldn't be more excited.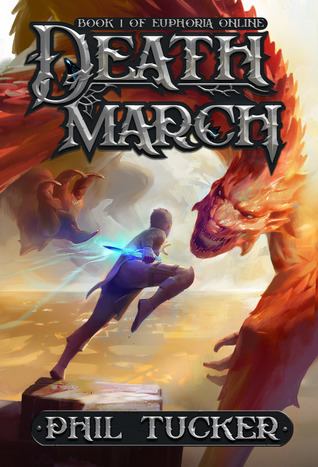 4) The Euphoria Online Trilogy by Phil Tucker — LitRPG is not typically one of my favorite subgenres, but Tucker won me over with this fantastically addictive, page-turner of a trilogy. One to binge, and I highly recommend the audiobooks, which feature a stellar performance by Vikas Adam.
5) Kingshold by D.P. Woolliscroft — One of my more recent reads, but so enjoyable and funny that I knew I needed to buy Tales of Kingshold immediately. This was a multi-PoV novel with outstanding characters and worldbuilding, and some wry observational humor. Overall a great debut and I look forward to more.
Special mentions to One of Us by Craig DiLouie, The Isle of Gold by Seven Jane, The Winter Riddle by Sam Hooker, Sir Thomas the Hesitant and the Table of Less Valued Knights by Liam Perrin, and Bloody Rose by Nicholas Eames. I could switch any of them out with my top 5 choices and be every bit as pleased with the selection.
---

Travis's List
1) Ship of Magic by Robin Hobb — I've been slowly working my way through Hobb's Realm of the Elderlings series, mostly because I can only handle so many emotions at once. I loved Farseer, but Liveship is somehow even better. Hobb is a master at getting inside her characters' heads and crafting grey characters you alternately love to hate and hate to love.
2) One of Us by Craig DiLouie — If you haven't heard of this before, GO READ THIS RIGHT NOW. I've never been so angry while reading a book before (and believe me I mean this in the best way possible). DiLouie likes to write "big idea" books, and he absolutely nailed it with this one. So far One of Us has fallen criminally under the radar but it is simply stunning and one of the most powerful books I've ever read.
3) Kindred by Octavia E. Butler — It's a shame that it's taken me this long to discover the genius of Octavia Butler. For a book that was written nearly 40 years ago, Kindred reads like it could've been written yesterday. It's a fascinating character-centered story with moving themes and a fantastic take on time travel.
4) The Girl With All the Gifts by M.R. Carey — I'll admit I wasn't sure what to expect going into this one. Zombie stories are usually my thing, but this shattered all my expectations and quickly became one of my favorite books. It's unexpectedly heartwarming but manages to provide a few brutal kicks in the feels along the way.
5) We Ride the Storm by Devin Madson — I'd heard a lot of buzz about this book from the other folks at the Inn, so I knew this would be something special. And holy shit was it special. The characters, world, and story are all incredible, and Madson pulls off excellent grimdark without going for "shock and awe." I can't wait to see what comes next with the sequel, webserial, and audio drama coming next year.